File Specifications
Printing Tips
Cover art and all color images should be in CMYK format or Pantone Format (PMS).
Text and barcodes should be 100% Black.
For Rich Black use 50%C, 50%M, 50% Y, 100% Black.
Grayscale Images should have a 2% whitest dot, 94% blackest dot with flesh tones no darker than 25%.
Images with no background should have a 0% background.
Resolution should be 300 dpi or greater for optimal printing.
Images from the internet may only be 72 dpi and will not print well. If you have to take an image from the internet try to find the largest resolution possible.
Back to top
Trim and Bleeds
Extend the background image of the cover 1/8" beyond the trim size for bleeds. This includes left, right, top and bottom.
Give yourself 3/8"+ space from text and objects to the trim edge of the page.
The spine width should be on your contract. If not, please contact your representative.
Interior margins should be no smaller than 1/2" on the top, bottom and outside margins and 5/8" on the inside binding margin.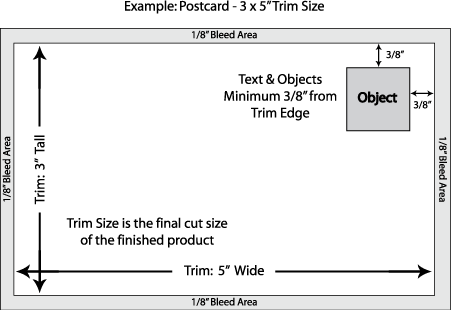 Back to top
Supported Programs and File Types
Program
Mac Support
PC Support
Adobe Acrobat
9.0
8.0
Adobe InDesign
CS4
CS2
Adobe Photoshop
CS4
CS2
Adobe Illustrator
CS4
CS2
QuarkXPress
7.0
7.0
PageMaker
7.0
7.0
FrameMaker
6.0
n/a
MS Word
No
No
MS Excel
No
No
MS Powerpoint
No
No
MS Publisher
No
No
Works
No
No
CorelDraw
No
No
Ventura
No
No
Note: Some older versions of these programs are also supported. Please inquire if you have questions.
Supported File Types:
Images should be in one of the following formats. If submitting any of the formats below except PDF files, please include the source file, fonts and all images. Make sure all images are linked in the file.
PhotoShop (*.PSD) (flattened, unless fonts are being supplied)
EPS
JPEG (*.JPG)
TIFF (*.TIF)
Back to top
PDF Files
Files should be PDF 1.3 or greater (Acrobat 4.0 compatible)
All fonts should be embedded. Non embedded fonts will most likely be substituted with another font (In properties, un-check the box "Rely on system fonts only")
Set Default Settings in properties to Press Quality or High Quality Print
Set pages to Single pages, not spreads
Back to top